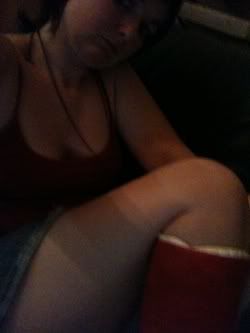 Life itself is the most wonderful fairy tale of all.
- Hans Christian Andersen
I dunno about that, Hans Christian Andersen. But I'm going to tell you all a little fairy tale anyway:
Once upon a time, there was a young woman of 29 years. She lived by herself in a one bedroom unit with a loft style bedroom that was located up a large flight of stairs. One very very wet morning, she awoke feeling calm and relaxed by the rain, but also upbeat and eager to begin what was to be an enjoyable day. The day in question was Australia Day. Here in Australia, we also fondly recognise it as '
Triple J Hottest 100
' day.
The young woman was looking forward to the '
Triple J Hottest 100
, and this year, the country embraced the national music countdown more warmly than ever before. This year there was more than 130 000 votes cast, and the winning song won by the largest ever margin. The woman was ready to celebrate the glorious countdown with those she loved most. She checked her email, Facebook and Twitter from the comfort of her bed and then rolled out of the sheets and made for the stairs. The rain was distractingly heavy. It wasn't very good weather for a barbecue or party, but still, there would be great music and the beer would be sure to flow. That was the main thing.
She contemplated the day as she stared out of the window at the rain beating down on the bricks in the courtyard. That pesky ex-cyclone Olga was making the weather miserable, still, 2 days after the threat had passed. As the young woman neared the bottom of the stairs, she hoped the rain would clear a little...after all Australia Day was about sunshine and good times, not miserable grey skies and tropical floods. It was then that she realised she had missed some steps and fallen to the floor with a great thud. She was not certain about whether or not she had heard a snap, but the pain was excruciating and she knew she had done major damage to her foot. She knew her day of lounging around enjoying the '
Triple J Hottest 100
and was over, then and there.
So instead of enjoying it, she laid on the couch at her mumma and daddy's house, not able to walk even, a tiny bit, trying to forget the pain of her swollen, blue, pulsing, right foot. Her driving foot, none the less. It was a disappointing day all round, and as it eventuated, the woman's foot was broken. She didn't get to listen to the Hottest 100 and she didn't have even one beer. But she did find out the
results
later, and she does look forward to purchasing the Hottest 100 of 2009 album.
That, ladies and gentleman, is the story of how I broke my foot on Australia Day. Unfortunately, because my turntable lives up those ghastly stairs that caused my injury, blogging about vinyl records is on hold for the time being. BUT, that won't stop me from blogging about my other favourite music!
Stay tuned!
RB x